To this day, military repression permeates the US. But as history has shown, resistance will always follow
William Ayers and Bernadine Dohrn -

The Guardian

4 May 2012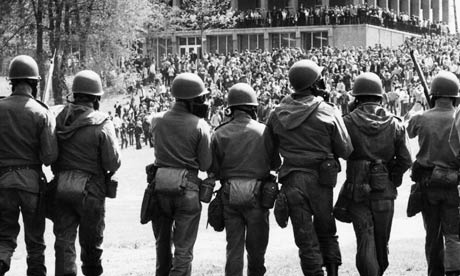 National Guard troops move in on a student protest at Kent State Ohio on 4 May 1970 Photograph: Time & Life images
On the rolling spring lawns of Kent State in the American heartland, students continued to press against an illegal, immoral war of occupation. The first entering classes of black students formed themselves into what was to become a growing wave of black student unions. Returning veterans were throwing their medals back at the war-mongers, and themselves becoming students.
Invasion, lawlessness, military occupation and counter-insurgency, displacement, and systematic violence visited on others necessarily created its domestic corollary: a militarised national security state promoting heightened cruelty and callousness at home, the shredding of constitutional liberty and rights, and the unleashing of armed violence on its own citizens. The 10 year war against Vietnam and the murderous secret assault on the black freedom movement were blood cousins, Kent and Jackson State its offspring.
At Kent State, students met with state violence and terror previously directed almost exclusively at the black and Latino freedom movements. In response, 80% of US colleges and universities called for some form of strike. Four million students were involved in protests, willing to face being beaten, gassed, or even shot. The National Guard was called out at 21 colleges and universities, 500 campuses cancelled classes, and 51 did not re-open until the fall. In Washington DC, 130,000 students mobilised against war and repression.
It was all merely prelude: greater repression and disintegration at home will accompany the long wars in Iraq, Afghanistan, Yemen, Bahrain and Pakistan. But inevitable resistance will always follow.